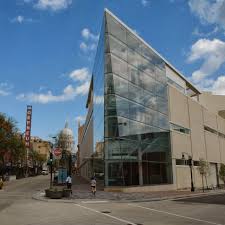 For three days each winter, the spaces of MMoCA and the Overture Center for the Arts are transformed as over 90 artists and specialty food vendors come together with thousands of visitors to kick off the holiday season with a cheer. The 2014 Holiday Art Fair will present fine art and craft from around the country, as well as local and gourmet treats, a silent auction, performances by local art organizations, and the popular Rediscovered Arts & Treasures Sale. This festive event is one of MMoCA's most important annual fundraisers, providing crucial support for exhibitions and education programming.

FAIR SCHEDULE
Friday, November 21, 2:30-7:00 pm.
Saturday, November 22, 10:00 am-5:00 pm
Sunday, November 23, 10:00 am-3:00 pm

ADMISSION
General admission is $6; children under 12 will be admitted free.