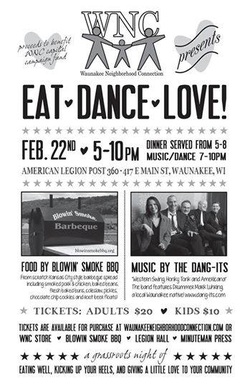 Madison/Waunakee Friends!
Come join the fun this Saturday night at the American Legion. There will be delicious food and lots of good music.
Help support the Waunakee Neighborhood Connection reach it's goal for the new facility. We're almost there!
Dinner from 5-8pm
Music and dancing from 7-10pm
Tickets can be purchased at the door, the WNC store, website:
www.waunakeeneighborhoodconnection.com
and Blowing Smoke BBQ.
Hope to see you there!