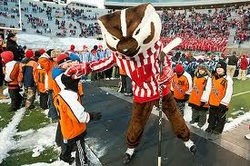 Skate with the Badgers
Sports
Meet UW men's hockey players & coaches, 4:30-6:30 pm, 12/8, Kohl Center. Free (bring skates). 608-262-1440
When: 12/08/13 @ 4:30pm
Call: 608-262-1440
Web:
www.uwbadgers.com
More Information:
Lace up your skates and hit the ice for the annual Wisconsin men's hockey "Skate with the Badgers." All Wisconsin hockey fans are invited to take to the ice with the current Badger players for open skating on Dec. 8, from 4:30-6:30 p.m.
Badger Fans can bring their skates and get autographs and photos with their favorite Badgers. Admission is free, but participants entering the ice must be wearing skates. Skate rentals are not available at the Kohl Center, so participants must bring their own skates. Additionally no sticks or puck will be allowed on the ice. Fans without skates can get autographs and photos from the stands.
Again this year, take a tour of the men's hockey locker room complex at LaBahn Arena.
The Kohl Center doors will open at 4:30 p.m. with entrance at gate B. Free parking will be available in lot 91 and 88 for the event. The concession stand outside of section 126 will be open. Please note the Wisconsin women's hockey game against Bemidji State that day starts at 2 p.m. on Dec. 8.
"Skate with the Badgers" on Sunday follows the UW's men's hockey inaugural Big Ten home series with Penn State. The game Friday night starts at 7 p.m., while Saturday night's contest begins at 8 p.m. at the Kohl Center. Click here to purchase tickets to this series.