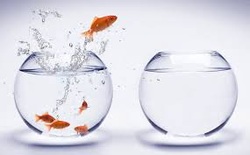 What could be more exciting than taking the leap from renter to first-time homeowner? You can turn the key in a lock that no landlord has access to, read in a hammock in your own backyard and paint your dining room bright red. Some first-time homeowners get swept up in all the excitement and make mistakes that can jeopardize everything they've worked so hard to earn.
Don't be one of those people: Take a moment to ponder a few of these practical concerns that will help ensure that your first home becomes the place of luxury and financial freedom you expected it to be.
Don't overspend on furniture and remodeling
You've just handed over a large portion of your life savings for a down payment, closing costs and moving expenses. Money is tight for most first-time homeowners. Not only are their savings depleted, but their monthly expenses are often higher as well, thanks to new expenses such as water and trash bills and extra insurance.
Everyone wants to personalize a new home and upgrade what may have been temporary apartment furniture for something nicer, but don't go on a massive spending spree to improve everything all at once. Just as important as getting your first home is staying in it, and as nice as solid maple kitchen cabinets might be, they aren't worth jeopardizing your new status as a homeowner. Give yourself time to adjust to the expenses of homeownership and rebuild your savings; the cabinets will still be waiting for you when you can more comfortably afford them.
Don't ignore important maintenance items
One of the new expenses of homeownership is making repairs. There is no landlord to call if your roof is leaking or your toilet is clogged (on the plus side, there is also no rent-increase notice taped to your door on a random Friday afternoon when you were looking forward to a nice weekend). While you should exercise restraint in purchasing the nonessentials, you shouldn't neglect any problem that puts you in danger or could get worse over time, turning a relatively small problem into a much larger and costlier one.
Hire qualified contractors
Don't try to save money by making improvements and repairs that you aren't qualified to make. Your home is both the place where you live and an investment, and it deserves the same level of care and attention you would give to anything you value highly. There's nothing wrong with painting the walls yourself, but if there's no wiring for an electric opener in your garage, don't cut a hole in the wall and start playing with copper. Hiring professionals to do work you don't know how to do is the best way to keep your home in top condition and avoid injuring yourself.
Get help with your tax return
Even if you hate the thought of spending money on an accountant when you normally do your returns yourself, and even if you're already feeling broke from buying that house, hiring an accountant to make sure you complete your return correctly and maximize your refund is a good idea. Homeownership significantly changes most people's tax situation and the deductions they are eligible to claim. Getting your taxes professionally done for one year can give you a template to use in future years if you want to resume doing your taxes yourself. And remember, tax-preparation expenses are tax deductible, so whatever your marginal tax rate is, think of that as a discount on the cost of the service.
If you think you are ready to make the leap to homeownership, contact
Lori
at (608) 381-4804 today to start your search. She'd be happy to set up an email auto-notification based on your price range, type of home and neighborhoods you'd prefer. Let's get started!